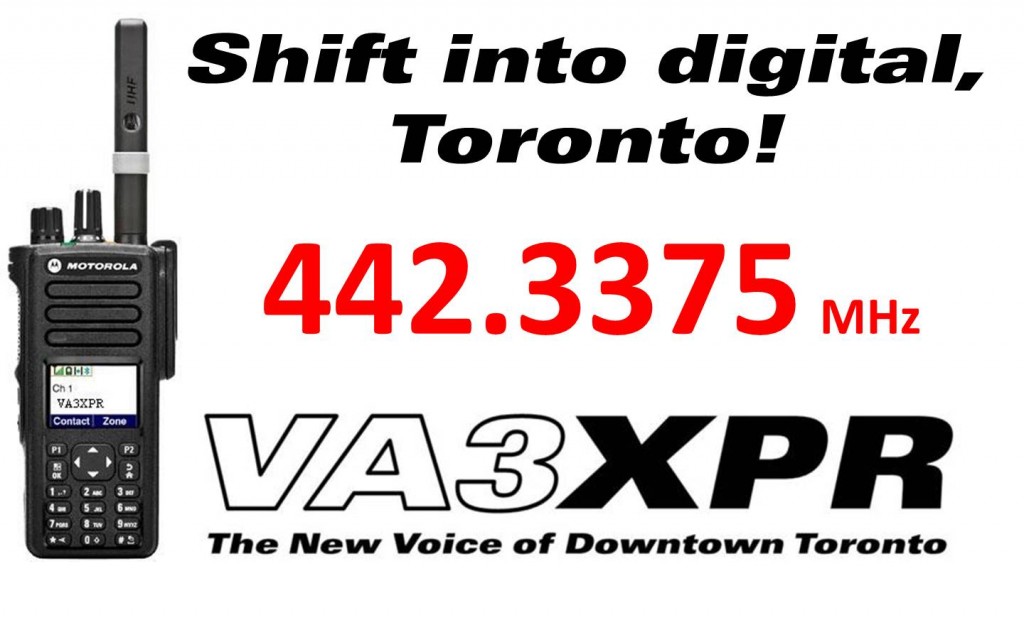 It's time to shift into digital, Toronto!
Today, the VA3XPR repeater, the new voice for downtown Toronto, becomes the first amateur radio repeater within the city of Toronto to support Digital Mobile Radio (DMR) communications using Motorola's MOTOTRBO technology. DMR, a published standard for digital voice communications utilizing TDMA technology, will enable amateur radio operators to communicate with one another, both locally, regionally and around the world using the Motorola Amateur Radio Club's (MARC) World Wide network, commonly known as the DMR-MARC network. The benefits of using digital voice communications using DMR include:
Crystal-clear audio without background noise or static;
The choice of world wide, regional or local communications;
Global text messaging with any other user on the network;
Up to 40% longer battery life than using similar analog FM radios.
To access this system, amateur radio operators will need a DMR radio, which are built by several manufacturers, including Motorola, Vertex Standard, Harris and Hytera, to name a few. Any amateur radio operator with a DMR capable radio will be able to use the VA3XPR digital DMR repeater to communicate with the following regions:
Channel 1: World Wide & North American communications
Channel 2: Local Toronto communications
The frequency for the VA3XPR digital DMR repeater is 442.3375 MHz, with a +5.0 MHz offset. Initially, the coverage area will limited to the downtown Toronto area, however the coverage area will increase in the coming weeks when the repeater is relocated to its permanent home in St. Jamestown, where the existing VA3XPR analog FM repeater is located.
For more information about DMR and MOTOTRBO digital voice communications, please check out the following list of frequently asked questions here.
If you're are interested in getting started with DMR or have additional questions, please contact:
Don Trynor, VA3XFT
VA3XPR Repeater Sponsor
va3xpr@gmail.com