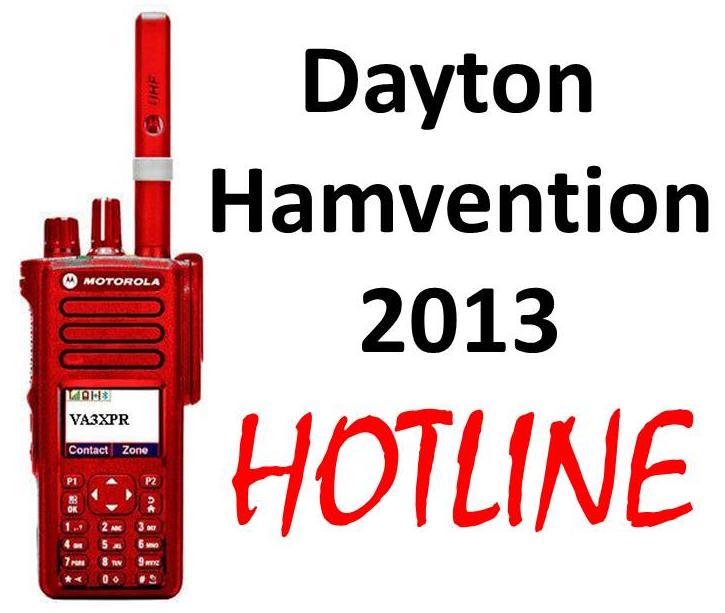 For anyone planning on making the pilgrimage to Dayton, OH for Dayton Hamvention 2013 on May 17-19, 2013, there are several must haves for this event, including a good pair of walking shoes, a ball cap, lots of sunscreen, a sturdy backpack and most importantly, your DMR radio. By using your DMR radio, you can keep on constant communications with your peeps back in Toronto for the entire event by simply tuning into the W8AK DMR repeater located in Dayton, OH, and having your ham buddies back home tune into the VA3XPR DMR repeater in downtown Toronto. By tuning into the North American talkgroup on either DMR repeater, you will have immediate access to the other repeater, with no complicated IRLP or EchoLink codes to dial or remember – just key up your radio and you will be heard in both Toronto, ON and Dayton, OH.
So when you need your friends back in Toronto to look up some radio specification on-line or some prices on eBay, your DMR radio will become your hotline to information.

For the repeater specifics, please see below:
DAYTON, OH – W8AK DMR REPEATER
Frequency: 443.7500+
Colour Code: 1
Group Call: 3 (North America)
Timeslot: 1
TORONTO, ON – VA3XPR DMR REPEATER
Frequency: 442.3375+
Colour Code: 1
Group Call: 3 (North America)
Timeslot: 1
Want to find out more about using DMR? Check out our Digital DMR Repeater page.