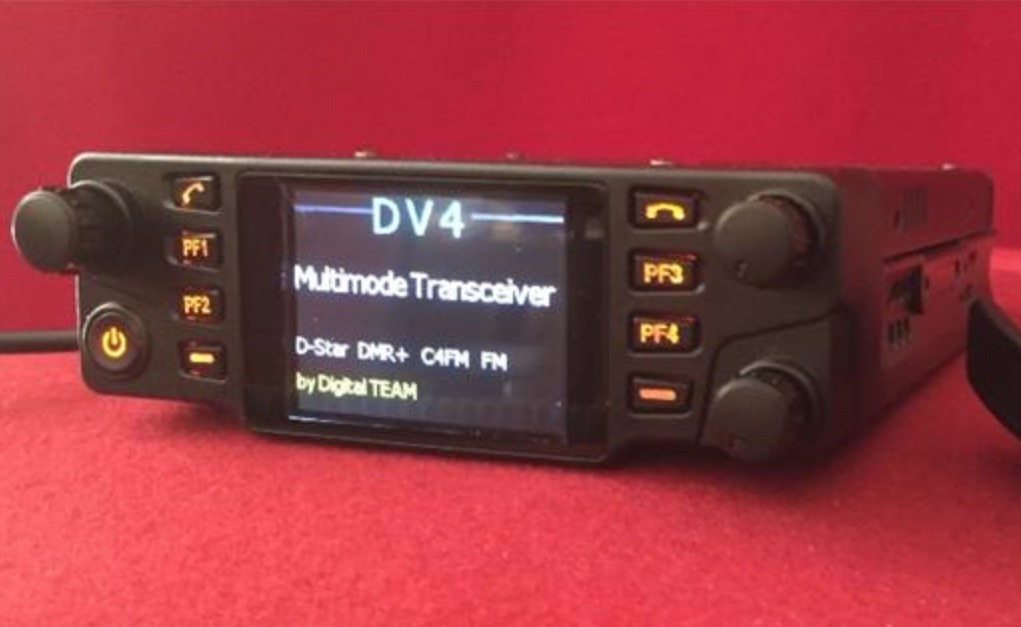 Well, it appears that 2016 may actually be the year that hams finally get to see their ultimate digital ham radio. Recently, Wireless Holdings LLC, the maker of the DV4mini – a wireless multi-mode hotspot, announced that it would be releasing the DV4mobile – a new tri-band (2m, 1.25m and 70cm), all-mode mobile radio supporting FM, DMR, D-STAR, C4FM (System Fusion), dPMR, P25, LTE and NXDN (in a later software update). The announcement of this radio comes on the heels of breaking details concerning the "New Radio" and only days before the 2016 Dayton Hamvention in Dayton, OH.
DON'T MISS: European hams announce NEW RADIO – a dual-band, multi-mode radio to support DMR, D-STAR and C4FM
Along with its impressive specifications are some new features, including DV4LTE, which is a new voice over LTE mode that connects the radio to the reflector using a LTE connection using the radios built-in LTE modem. This will undoubtedly be a very useful feature for hams that are travelling in areas where there are no digital ham repeaters or simply do not want to manage lists of ham repeaters along their planned travel route. Also, since the radio will support APRS using a built-in GPS module, it can download repeater information for the area that it is operating in using its LTE modem, saving the user the headache of programming repeaters into the radio and providing them with a great deal of flexibility when travelling. Some of the additional features that the DV4mobile will include are as follows:
144 – 148 MHz, 222 – 225 MHz (U.S. version only) and 420 – 450 MHz band operation
DMR, D-STAR, C4FM (narrow and wideband modes), dPMR, P25 (Phase 1 only), LTE and NXDN (via subsequent software udpate) mode operation
GPS support for APRS operation
240 x 320 pixel, 262k colour display
USB, HDMI and RJ-45 Ethernet ports
20W of power output
DTMF microphone
Wireless Holdings also claims that the DV4mobile will operate as a dual-band, dual-mode simplex repeater and provide as example that a user could use it as a D-STAR repeater on 2m and simultaneously as a DMR repeater on 70cm while conducting  FM QSO on 222 MHz (U.S. version only).
So for anyone wanting to get their hands on one of these sweet radios, you'll need to wait until the fourth quarter of 2016 when the radio is supposed to become available at a yet unspecified price. While many will find it disheartening that the radio is not yet ready for purchase, referring to such units as "vapourware", it is encouraging to hear that other manufactures are actually working to bridge the digital gap that the ham radio community has found itself in. With many competing digital modes from various manufacturers, it can expensive and cumbersome for hams to have a radio for each digital mode. So chin up folks and keep your ears to the ground for more announcements about this and other Swiss Army knife radios, as sooner our later, we will get our coveted "Holy Grail" digital radio!
For more information on the DV4mobile, check out the Wireless Holdings website.
Thanks for the tip Mike, VE3MIC!