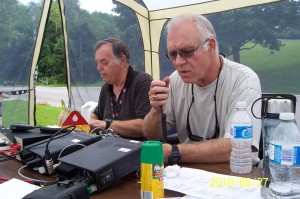 Please note that the VA3XPR repeater will be the designated talk-in frequency for the CenTor ARC 2012 Field Day event on June 23rd & 24th. Details about this event are outlined below.
Ham Radio All Talk in Times of Crisis
Despite the prevalence of the Internet, Amateur Radio has never failed as a lifeline during times of crisis. To demonstrate this capability, the Central Toronto Amateur Radio Club (aka CenTor) is conducting an Amateur Radio emergency preparedness exercise on June 23 – 24, 2012, which will be open to the public.
Often called "ham radio", Amateur Radio is a non-commercial radio service, which allows licensed operators to use various types of radio communications equipment to communicate with one another, both locally and around the globe, for both public service and recreational purposes. Amateur Radio operators, often referred to as "hams", are federally licensed by Industry Canada and are allowed to use specially allocated radio frequencies to carry out their operations. Hams come from all walks of life and are located all over the world.
"Amateur Radio plays a very important role in the communications capabilities of our modern society", said Peter Dale, President, CenTor, and licensed Amateur Radio operator with the call sign of VE3EYI. "Not only does it facilitate communications during times of emergency or natural disaster, it is also a lot of fun and a great way to learn about electronics and wireless communications, especially for young people", Dale added.
The emergency preparedness exercise being put on by CenTor will be part of an annual event called "Field Day". During this event, hams all over North America will be setting-up emergency stations in public places and communicating with one another over a 24-hour period for points as part of a large North American emergency preparedness contest.
Anyone interested in learning about Amateur Radio and its capabilities is encouraged to attend.
For the event details and to see the original press release, click here.
For more information about CenTor, click here.
For further information, contact:
Don Trynor, VA3XFT
Public Relations Coordinator
Central Toronto Amateur Radio Club
Tel: 416-262-7911
Email: trynor@gmail.com