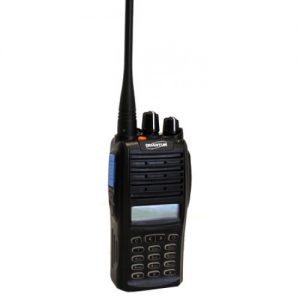 The flow of discount DMR gear from China has been underway for a while now and recently, things just got a bit weirder. While the Connect Systems CS700 has become one of the most popular DMR radios to hit the market for the ham community and with many more hams waiting with bated breathe for the release of its sister radio – the all singing, all dancing Connect Systems CS7000, a clone of both has recently been spotted in the wild.  Meet the Quantun QP-2100, which is being sold in the US market by Quantun Electronics of Sunrise, Florida.
DON'T MISS: Connect Systems CS700 DMR Portable Radio Review
This upstart in the DMR market appears to have the same features and specifications as the CS700, with some notable difference in price and warranty. Apparently, the QP-2100 can be purchased for $189.50USD, which includes the programming cable and a 2-year warranty, whereas the CS700 retails to ham users for $199USD  + $5USD for the programming cable and only comes with a 1-year warranty. While these differences may not matter much to most hams, it is interesting to see that Chinese manufactures continue to forge ahead with value priced options, which are likely to become a hit with budget concious ham users. Over time, no doubt more DMR radio models will appear from China from companies with names that most of us have heard of before and with these, the popularity of DMR within the ham community is likely to grow proportionally.
For anyone that decides to pick-up a QP-2100, the latest firmware and the programming software can be found on the following website.
We'll be in Las Vegas next week for IWCE 2015, so stay tuned for lots of cool new DMR gear that is likely to be announced at that event!