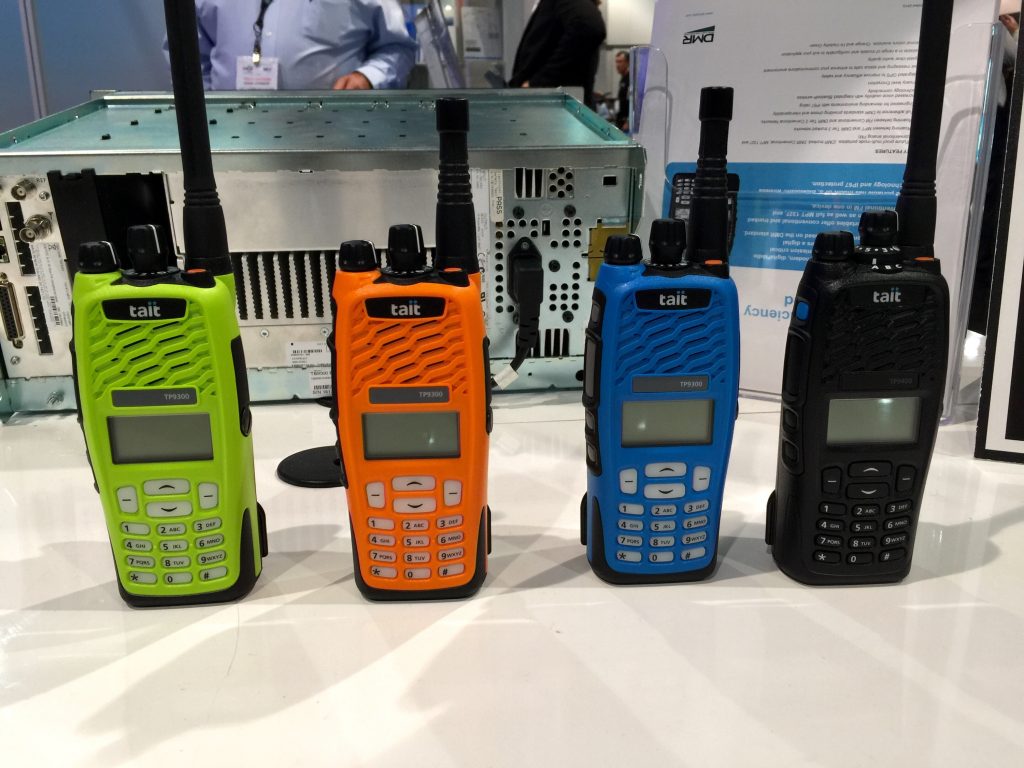 With the the phenomenal growth of DMR both in the commercial two-way radio industry and within the ham radio community, many new manufacturers are jumping onto the DMR bandwagon with a variety of new models. As a result, there were lots of DMR radios turning up this year at the IWCE 2015 event here in Las Vegas, NV. It is important to note that while many models were featured, many of those were not functioning and little information was available about them. Here's a snapshot of some of the units we saw.
Tait, a longtime pioneer in the tw0-way mobile radio industry, was offering the TP-9300 series DMR radio at IWCE. This heavy duty portable radio is really well built and came in a variety of colours and configurations. While these units are likely to be beyond the budget of most hams with pricing around $1000 USD, they did feature some impressive durability features, such as reinforced antenna connectors, waterproof cases and much more. The TP-9300 is also capable of 2,000 channels and 100 zones.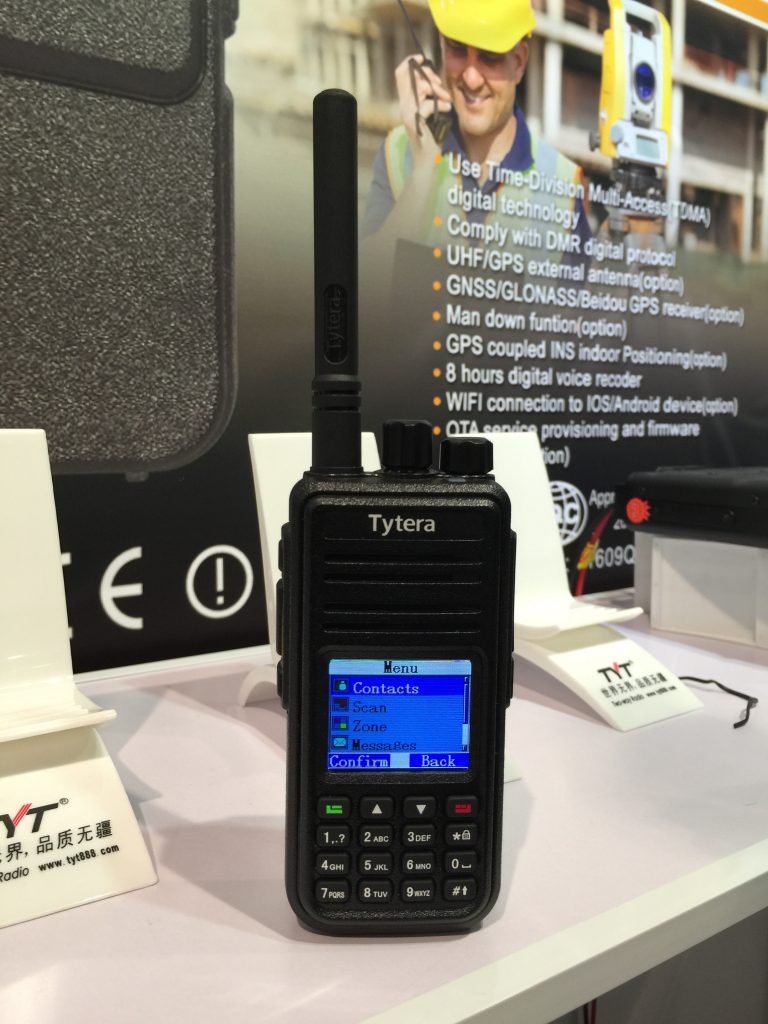 Tytera, a Chinese manufacture ,which is more commonly know in North American as "TYT", released the MD-380 DMR portable radio this week here at IWCE 2015. This compact portable radio is one of the first units aside from Motorola and Kirisun to feature a colour display. In addition, this radio features 1,000 channels and is expected to be keypad programmable or FPP (front panel programmable) capable via a hidden menu within the radios settings. While TYT expected to make the radio available to the public at the event, some firmware issues have delayed their launch until April. The anticipated retail price for the MD-380 is $140 USD.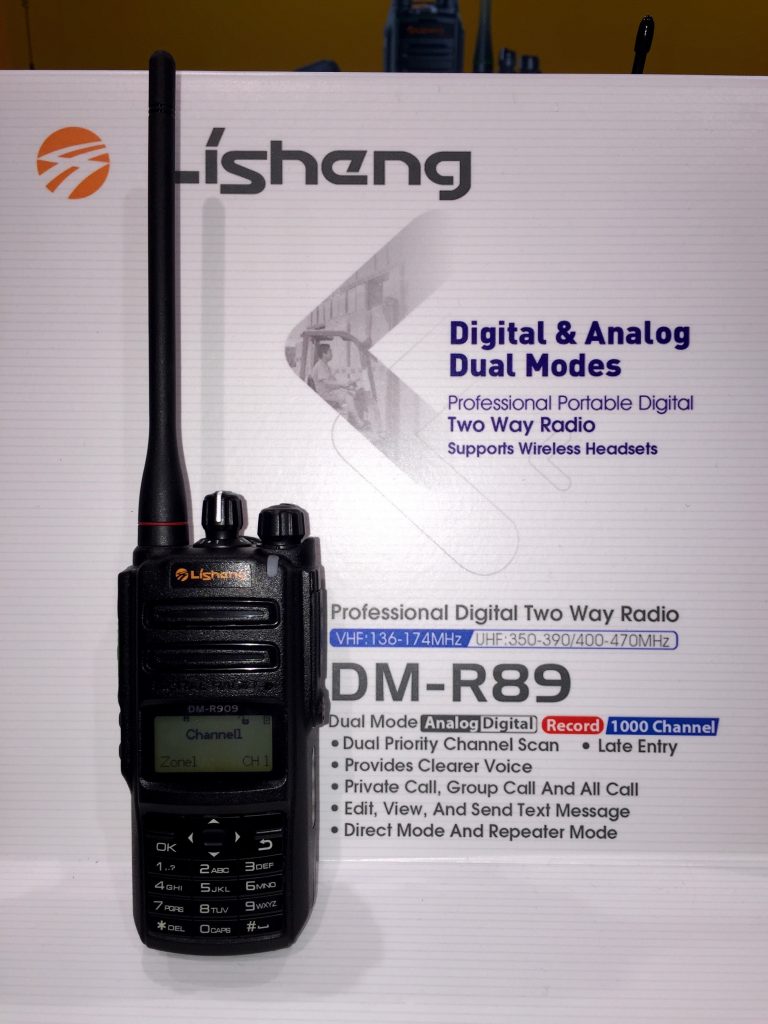 The Lisheng DM-R89 DMR portable radio was one of the many Chinese DMR units being features that offered little information as to its features, availability or retail pricing. Lisheng had many models featured, however most of them were either dPMR models or analog only models.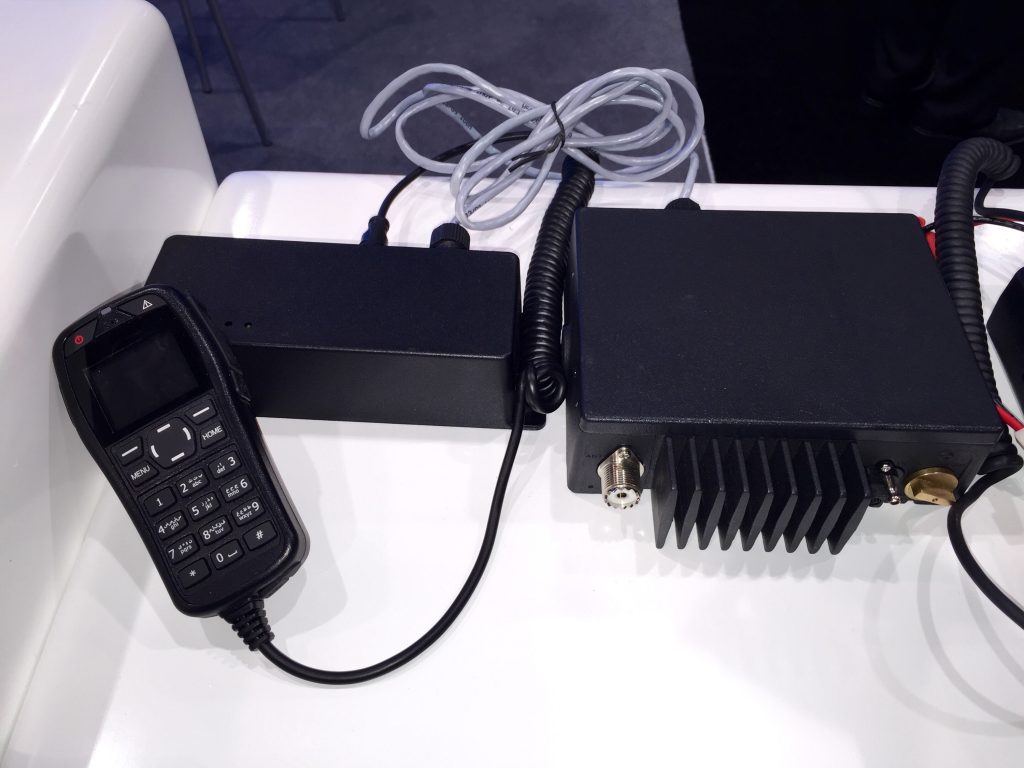 BFDX, another Chinese vendor that already sells the BF-TD501 DMR portable radio, was also featuring a couple of new mobile radios at the event – the BF-MT7250 and a new remote control model (no model number yet available). The BF-MT7250 features 160 channel with 50 zones and a monochrome display. Noteworthy in the specifications, it indicates that it only supports 12.5 kHz FM operation, which could be problematic for ham users, where 25 kHz FM operation is the the norm.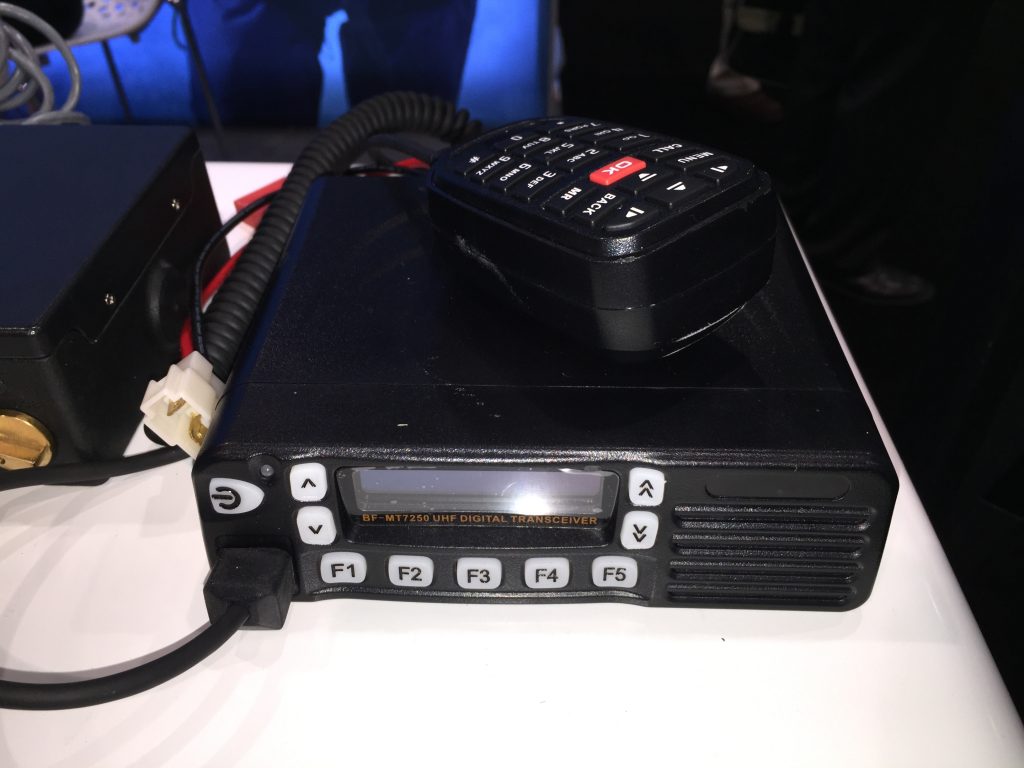 Wanhua, another Chinese manufacture that is now offering DMR radios, was showcasing their new ATS-800 "fun" DMR portable radio. While we're not sure what make this radio so fun, it did feature a colour display and 256 channels (16 zones with 16 channels). No pricing information was available.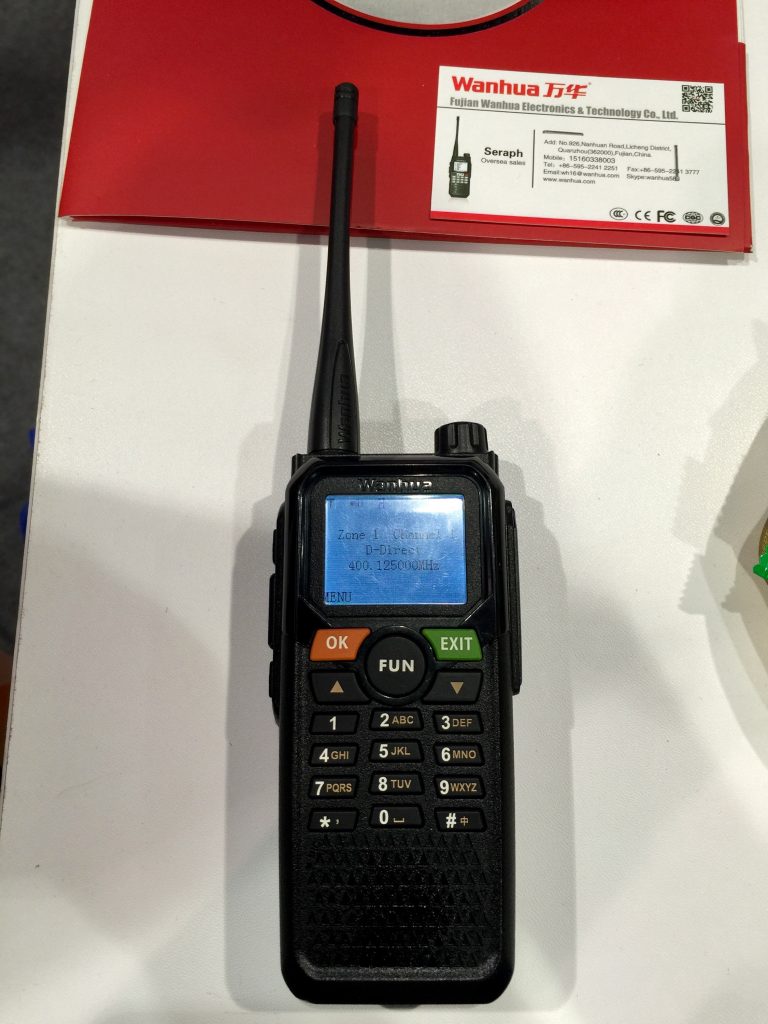 Puxing, another Chinese vendor that currently offers a wide range of FM and dPMR radios, is now featuring the PX620 DMR portable radio. Unfortunately, no information was available about this unit. So for anyone who really likes the look of this radio, it would be wise not to wait by the phone for its arrival.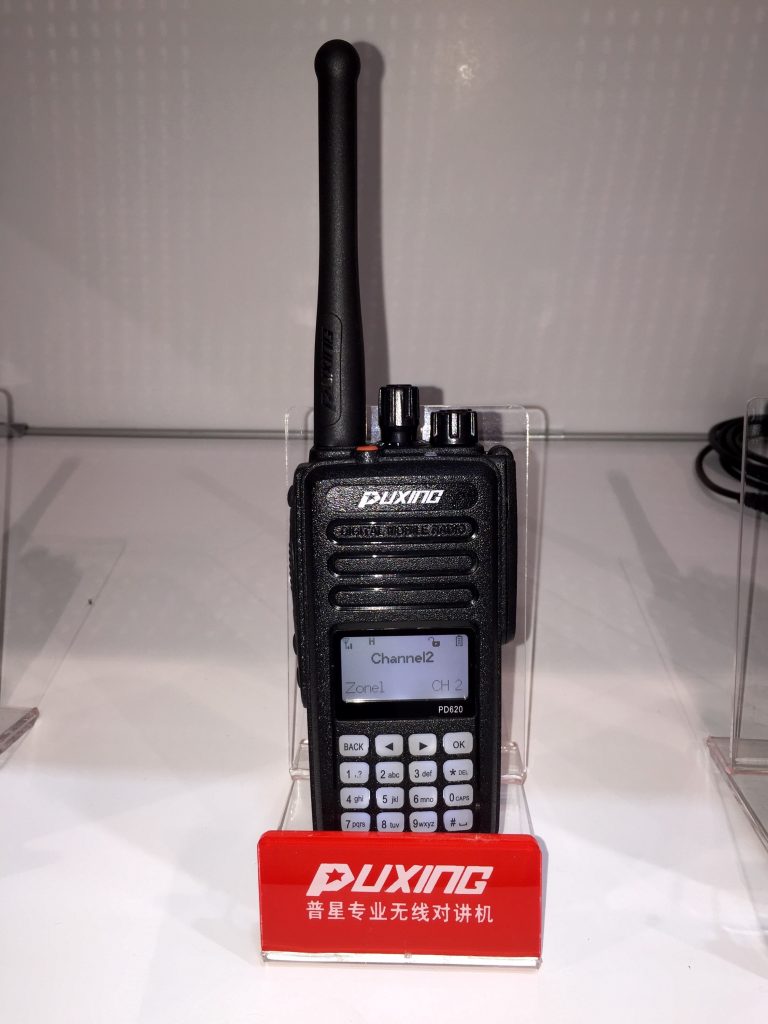 HQT, yet another Chinese vendor, was featuring the DH-9800 DMR portable radio. It seems as though this could be a sweet unit, as it comes standard with 1,024 channels (64 zones with 16 channels), colour display, programmable buttons and is submersible with an IP67 rating. In addition, some of the optional features available with this radio include bluetooth capability, vibrate option and GPS capability. No pricing information was available. It is important to note that another radio with similar specifications and form factor was being offered by TecNet – the company that has taken over the Maxon brand.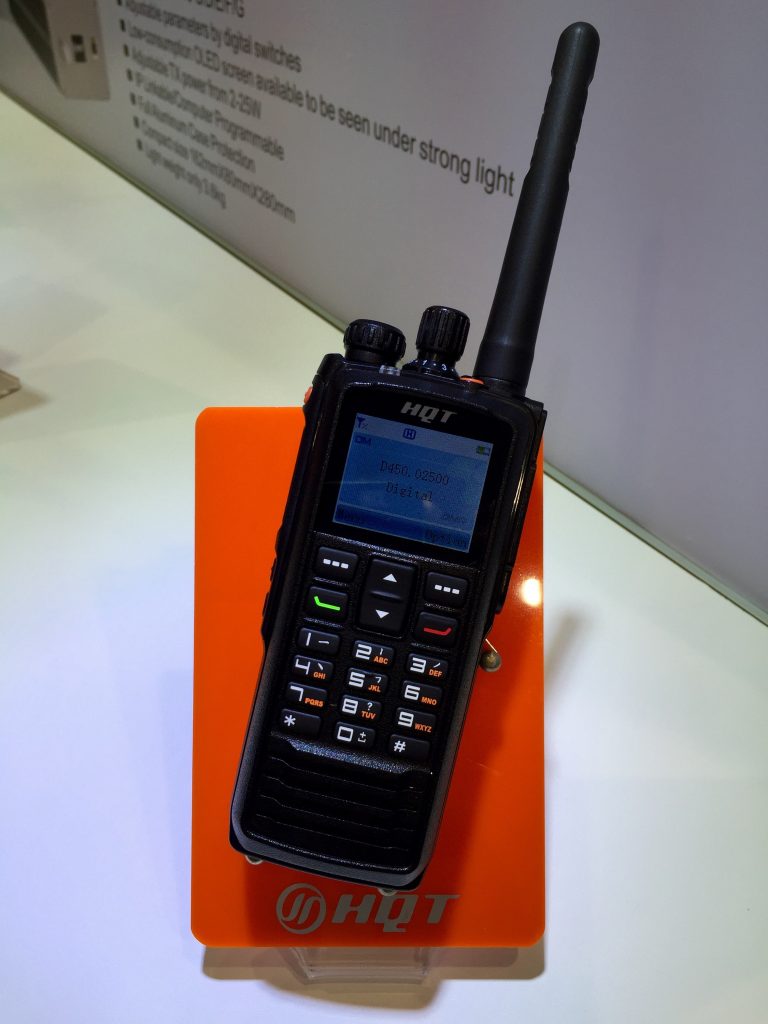 So there you have it folks! Another great DMR year at IWCE 2015! And as ever, when it comes to some of these "hot off the press" models, it's as Paul, VA3PAW, articulated very appropriately as "caveat emptor", or let the buyer beware. If anyone comes across any of these units and has some information that they'd like to share, please contact us.